Act 125 (HB1244 HD1 SD2 CD1, 7/10/2017) was passed in 2017. It requires upgrade, conversion, or sewer connection of all cesspools in the State before 2050 unless exempted. It also broadens eligibility criteria for tax credit to offset costs. Further, Act 125 requires the Department of Health to investigate existing cesspools, assess incentive programs, and report to the Legislature.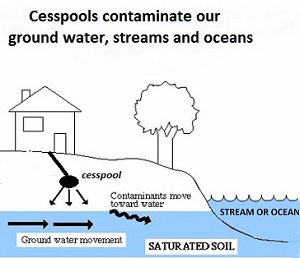 Cesspools are little more than holes in the ground that collect and discharge raw, untreated human waste. Cesspools can contaminate ground water, drinking water sources, streams and oceans with disease‐causing pathogens. The report identifies 14 areas in the state where an evaluation of data on hand indicates greatest need for action. These areas include approximately 43,000 cesspools state wide.
The report further identifies 4 priority categories:
Priority 1 are areas where cesspools present a Significant Risk of Human Impacts, Drinking Water Impacts, or Draining to Sensitive Waters.
Priority 2 are areas where cesspools present a Potential to Impact Drinking Water.
Priority 3 are areas where cesspools have the Potential to Impact Sensitive Waters in our state.
Priority 4 is a placeholder for all cesspools whose impacts DOH have yet to fully analyze.
Hawaii Island is home to the majority of cesspools in the state, roughly 50,000. County wastewater facilities treat and discharge roughly 4 million gallons daily, while its cesspools discharge about 29 million gallons of wastewater every day. Coastal Kailua‐Kona 6,500 cesspools are located in a Priority 3 area. Groundwater modeling and a survey of reef health indicates that nitrate concentrations from these cesspools may be resulting in a significant nutrient contamination load to the coral reefs in this area. Puako's 150 cesspools are located in a Priority 3 area. The Hawai'i Department of Land and Natural Resources, Division of Aquatic Resources found that the Puako reefs are in dire straits, with coral cover decreasing 35 percent and overgrowth of turf and macroalgae increasing 38 percent in the last 30 years.
Act 120 provides a temporary income tax credit for the cost of upgrading or converting a qualified cesspool to a septic tank system or an aerobic treatment unit system, or connecting to a sewer system. A taxpayer may apply for a tax credit of up to $10,000 for each qualified cesspool. Tax credits are available for five years. The tax credit starts in tax year 2016 and ends in tax year 2020, December 31, 2020. There is a $5,000,000 cap that is available for each tax year. Any taxpayer who is not eligible to claim the credit in a taxable year shall be eligible to claim the credit in the subsequent taxable years from 2017 to 2020.
For more information, visit Wastewater Branch. You will find the text of the Act 125 HERE.